Analysis of two polls reveals individuals' satisfaction with U.S. democracy, plus national priorities.  
Nearly one year after the Jan. 6, 2021 attack on the U.S. Capitol, a new UMD Critical Issues Poll study provides insight on how that event impacted Americans' feelings about the state of American democracy, as well as what citizens believe are top issues facing the country. 
In the first of two surveys analyzed in the "Public Dissonance Over the State of U.S. Democracy and Issue Priorities Of A Polarized Electorate" study, Republicans (68%) and Independents (61%) expressed that they were more dissatisfied with the current state of U.S. democracy than Democrats (43%), and those most dissatisfied were "more likely to hold more polarizing views on numerous issues," said Professor Stella Rouse, the associate director of the UMD Critical Issues Poll and the director of the Center for Democracy and Civic Engagement. "In particular, Republicans who express greater dissatisfaction with U.S. democracy favor more restrictions on voting rights."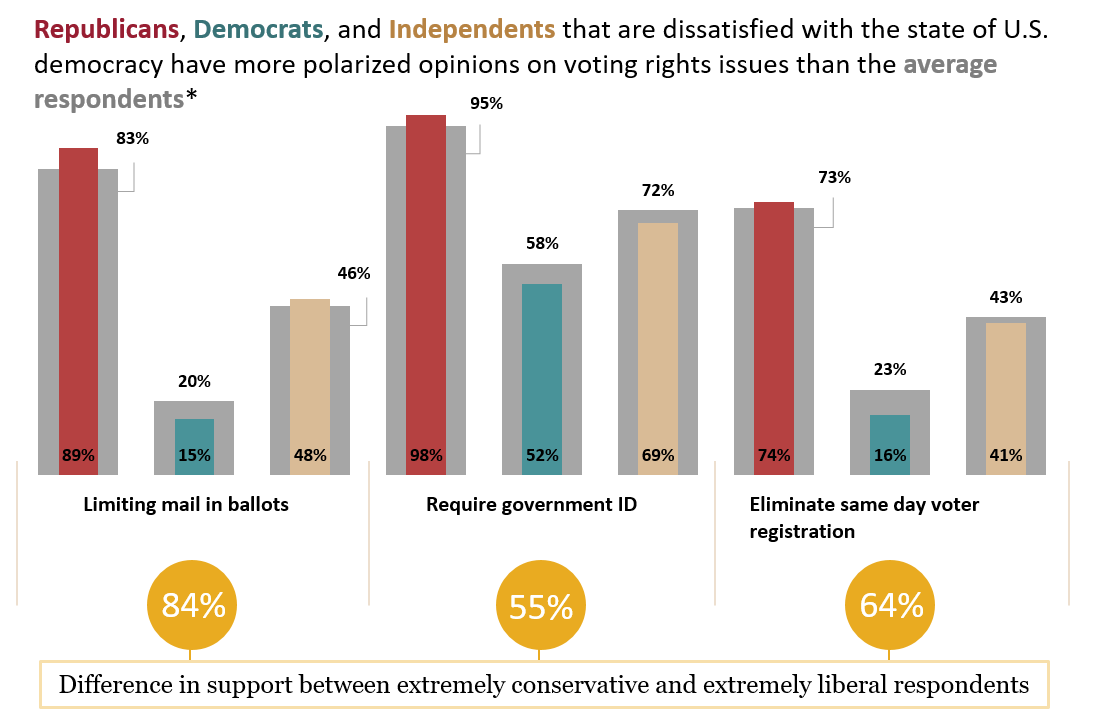 There were a few things that the majority of respondents agreed on across parties, however. For example, 90% said that they were "somewhat concerned" or "very concerned" about the spread of misinformation, with moderate and slightly conservative respondents—individuals were asked to situate themselves on a seven-point scale ranging from "extremely liberal" to "extremely conservative"—showing that they are least likely to believe information from social media.
"It is a concerning finding that although most Americans are worried about misinformation, those at the extreme ends of the political spectrum tend to trust the political information they receive through social media," added Rouse. 
Another shared belief among Republicans (81%), Democrats (98%) and Independents (93%) is that the actions taken on Jan. 6, 2021 were unjustifiable. However, they did differ in opinion on who was to blame, and also what issues should be the country's top priorities, per the second survey analyzed in the study. 
From June 22-July 21 2021, a nationally representative sample of Americans were asked online to rank 10 issues in order of importance. Corruption, poverty, and crime and insecurity, respectively, were the top issues, despite key differences in rankings by certain demographics.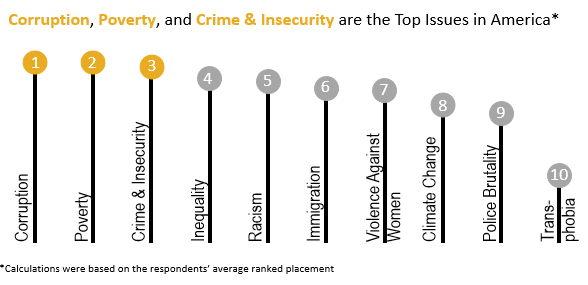 For example, Democrats put racism, then inequality before corruption. They also placed less priority than Republicans on crime and insecurity, the two issues Republicans rank as most important. 
Demographically, poverty—at its lowest rate since 1959—was particularly important to White Americans and to individuals with less than a high school education. However, poverty didn't make Black Americans' short list of important issues; to this group, top issues are racism, inequality and police brutality. 
"It is notable that even though Blacks, on average, have higher rates of poverty, they are less likely than Whites to rate poverty as one of the top three issues," said Professor Shibley Telhami, director of the poll and the Anwar Sadat Professor for Peace and Development. "This of course does not mean that Blacks do not think poverty to be highly important, but rather points to the fact that Blacks rank other pressing issues like racism and police brutality even higher on their list of priorities."
The full report and poll questionnaires can be found here, and additional information about the UMD Critical Issues Poll and other studies can be found here.  
Photo courtesy of franckreporter via iStock.